Our Story
In 2010, Felipe Salvini, Sieve's founder, was seeking two Computer Science interns to start what would become the first Price Intelligence platform in the global market.
Although we studied at the same university and worked in the same startup before, we only met after a friend introduced us. After a quick conversion, we got went to Salvini's apartment to start our first startup together.
I started as a developer intern where I learned Python by developing web crawlers, but as we wanted to provide a platform for customers, we started requiring UX Design work. I decided to try and ended up falling in love with it.
I learnt the basics of UI/UX Design by myself until I decided to drop out from Computer Science university, moved to the Digital Media Design course, and dedicated my work life to digital design.
Our platform crawled the main e-commerces in Brazil, extracting information to provide intelligent price analysis for brands and online retailers. They were able to follow up closely with their competition's prices and adjust their pricing strategy instantly.
Sieve had important clients such as Walmart, P&G, Nike, Samsung, and Magazine Luiza, and it was acquired in 2015 for US$42 million by B2W, the largest e-commerce group in Brazil.
---
Work
I was responsible for the UI/UX design, front-end coding, and company merchandise. I designed Sieve Analytics Web tool for retailers from the ground up, the website, and internal platforms to help manage the company.
Sieve Analytics Portal
An analytics platform that provides real-time price intelligence for market decisions. The main challenge was translating machine learning raw data into readable information for users.
Unfortunately, we lost the design files as the years passed by. Below are a few shots I found.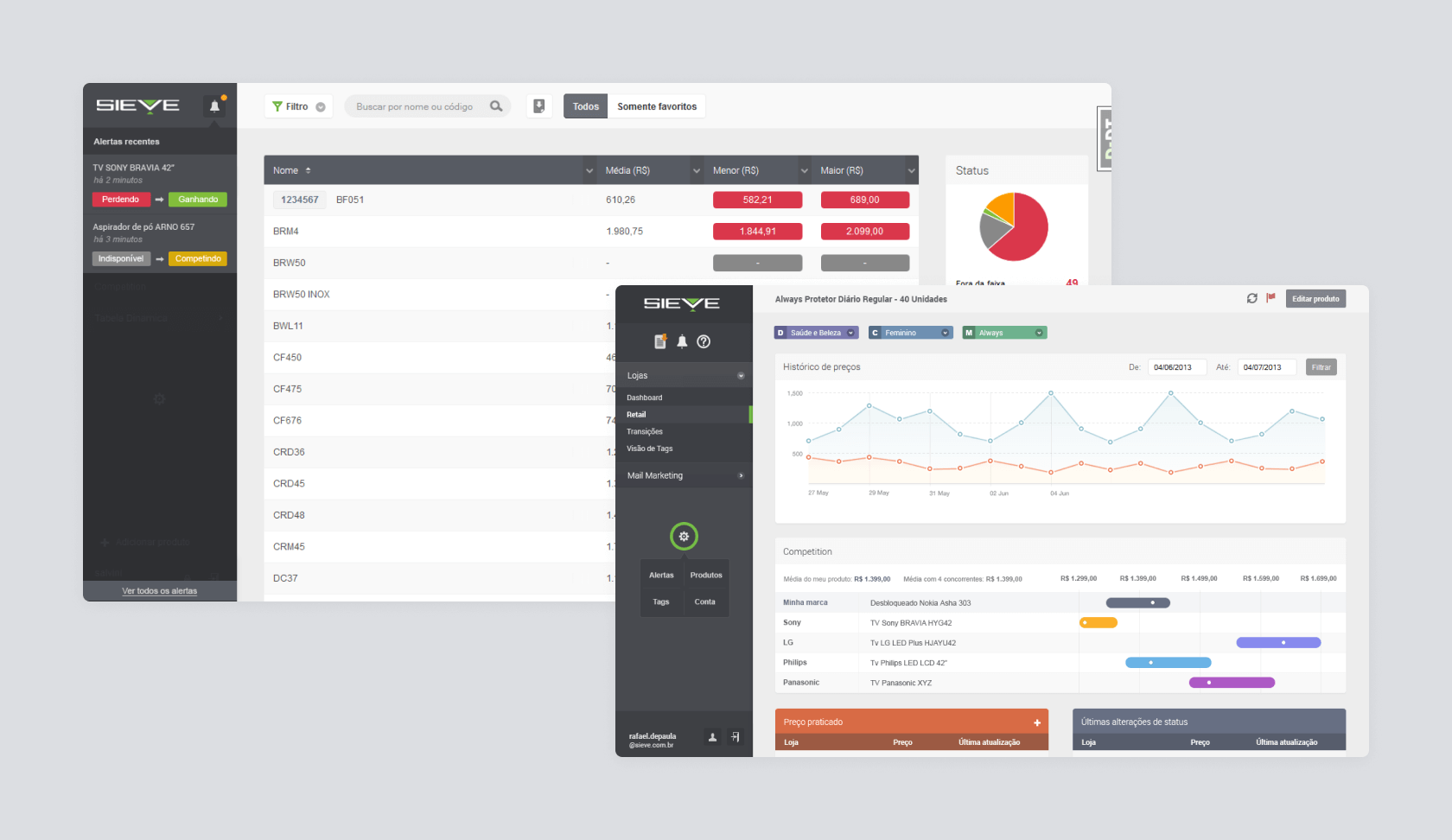 2014 - My latest design before I left the company.